Tech-enabled or an intelligent traffic management system is an advanced, cost-effective solution to easing congestion on roads and enabling more efficient and more thoughtful use of transport networks. With the ever-increasing traffic flow, such innovative technology solutions help us in being better informed and make safer and coordinated decisions.
Constructing new roads and bridges is often expensive, and such intelligent solutions prove cost-effective and quick. As a result, smart cities across the globe are incorporating these to augment their traffic management systems. They usually involve a coordinated array of hardware, software, and cloud solutions.
Open Source ATMS in the Key
A transparent and efficient way of managing traffic flow, open-source Advanced Transport Management System (ATMS) enable us to have a broad range of deployment configuration options with various operating systems. For instance, smart traffic intersections can be controlled digitally using cameras and sensors for proper visualization of road networks, and decisions can be made in real-time. Some of its functionalities include
Congestion detection

Traffic and lane management

Speed monitoring and control

Automated Warning System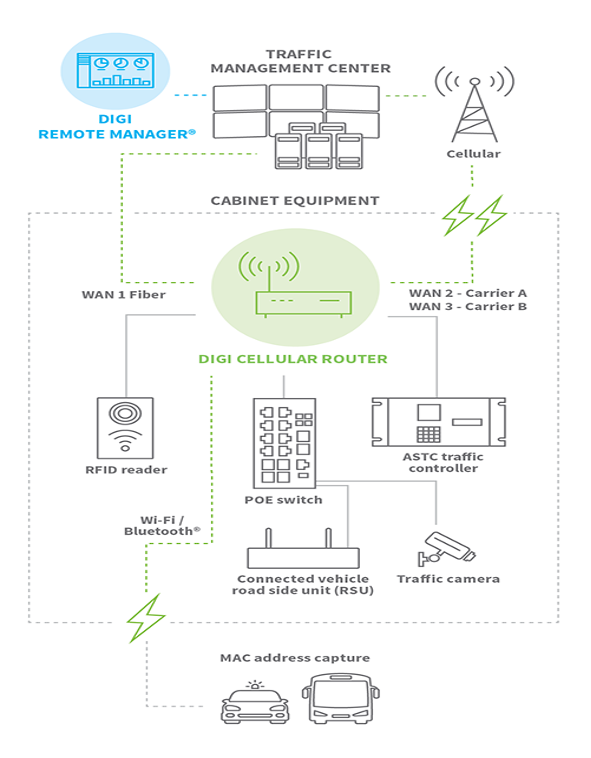 A Consolidated Data Hub to the Rescue
Jams, congestion, slow-downs, and bottlenecks are some of the problems that plague our streets and highways. Incorporating advancements in technology such as the Internet of Things can improve and streamline traffic flow using existing infrastructure.
Jams, congestion, slow-downs, and bottlenecks are some of the problems that plague our streets and highways. Incorporating advancements in technology such as the Internet of Things can improve and streamline traffic flow using existing infrastructure.
For instance, cities can better manage their mobility ecosystems and overcome challenges by
Adjusting traffic light timings for a streamlined traffic flow
Diverting traffic by recognizing bottlenecks
Transmitting real-time information to vehicles for people to make an informed decision.
Giving priority access to emergency services like police, fire brigades, and ambulances.
Enhanced Driving Experience with an Assurance of Road Safety
Smart cities with intelligent road networks will help us innovate and improve the driving experience, especially in road safety. These systems will be able to directly control and communicate with vehicles by either signaling or breaking them directly to prevent accidents.
Congestion at peak hours, especially in metropolitan cities, is a significant problem, and longer, irregular, and mismatched timings at different intervals lead to higher emission rates. Real-time analysis and adapting traffic light timings will work towards reducing congestion. As a result, cars will not be idle for extended amounts of time, leading to lesser emissions and lower pollution levels, thus leading to an overall positive impact on the environment.
A Some Challenges to Implementation
As effortless and as simple as it sounds, such systems of intelligent road networks, including intelligent highways, involve a critical issue of extensive adoption of Community platforms. This means common platforms owned by no one but everybody's participation will make it work.According to Booz & Co" From a policy perspective, there is little question but that an open standards approach, which would allow all to use the same technology, would be best." Not only that, the next-generation intelligent high design would require cars, traffic signals to integrated services, and infrastructure to use the same system.
Social acceptance of such an enhanced experience to not drive at all but be driven around guided by technology is another major hurdle. Drivers would not wish to give up on the 'fun' of driving, and BMW would want to maintain its "ultimate driving experience."
The Safer, The Better
But the odds weigh heavier on the side of safer, quicker, and better driving experience on intelligent highways than a 'nose to tail' traditional commute on normal roads.
As intelligent highways expert Richard Bishop commented on the Future Agenda
"In addition to what is required by service users and service providers, users also need to be supported by systems of accountability. The willingness of organizations to be accountable for their services is often seen as a relational underpinning of the value of transparency. However, meaningful accountability requires significantly more than mere transparency. Accountability extends to managerial accountability within organizations, but also requires the existence of effective external systems of accountability."
A lot of research has already been done in numerous countries to come up with smart automatic vehicles for smart cities. For instance
"PROMETHEUS PROJECT IN EUROPE IN THE LATE 1980s AND EARLY 1990s, THE ARGO PROJECT IN ITALY, THE FROG PROJECT IN THE NETHERLANDS, THE DARPA GRAND CHALLENGE IN THE US AND, MOST NOTABLY FOR THE MEDIA, THE 1997 SAN DIEGO AUTOMATED HIGHWAY DEMONSTRATION IN WHICH A NUMBER OF DRIVERLESS CARS FOLLOWED EACH OTHER DOWN A 12 KM TEST TRACK. IN 1995, ON THE OPEN ROAD, A MERCEDES BENZ DROVE FROM MUNICH TO COPENHAGEN AND BACK USING SACCADIC COMPUTER VISION AND ACHIEVED SPEEDS OF OVER 175 KM/H OVER DISTANCES OF UP TO 150 KM WITH NO HUMAN INTERVENTION"
Conclusion
With research and innovations in full swing in tech-enabled traffic management, the future holds a promise to match our favorite Sci-fi movies. Work on innovative solutions such as
Interactive street lights that glow brighter as you come closer and slowly dim as your car passes,
wind-powered lights for efficient use of energy
Glass roads embedded with solar panels that can help us save, and generate clean electricity and
The glow in the night roads has already started.
It won't be long before truly intelligent systems take over with minimum human intervention, but until then, gradual developments in digital solutions will enable the implementation and overall acceptance of these intelligent technologies.